I read book aboutMind mapsfew year ago and since then I was using them (ok, trying to use them). I like them, because they support continual creation of ideas, flow of thoughts for certain topic. I have special notebook where I draw them, but when I bought my first tablet 2 years ago, one of the first apps I was looking for was for Mind maps. I can't remember how many apps I tried, but I sticked to theSimpleMind Free. It's easy to use, there aren't many options and I LOVE Spring Levels style :) What I missed was of course fome kind of export to the cloud.
Few days ago it came to my mind that I could use it on my Android phone. I wanted also to install SimpleMind Free app, but then I saw on Google Play that there is also Paid version and hey, it has native connection to Dropbox account, so I can upload and use on both devices. And luckily Google Play works in the way that when I buy some application, it's tied to my Google account, so I can use it on whatever number of devices I have connected to my Google account.
It cost 6$ which is ok one time buying price :)
When I installedSimpleMindpaid app I run free version, there is option to do bulk export of mind map files to paid version (thumb up for this), so transition from free to paid app is pretty smooth.
Here is process of export/import mind maps from free to paid app (both have to be installed at the same time). Bellow is screen shot of list of maps. To export all maps just press marked icon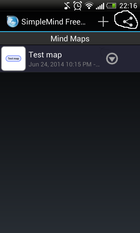 then info window with conformation/cancellation will show up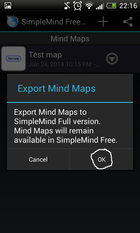 Pressing OK will result in oppening SimpleMind paid app with informational message of what and how many things were exported/imported.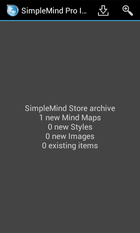 Paid app has many more options which I am not using so far, thus I will not go into details concerning possibilities. Good comparison and description of possibilities is onhttp://www.simpleapps.eu/simplemind/android
Worth mentioning is that when files are imported for first time from Dropbox, they are imported in special folder named "Imports from Dropbox", but they can be moved to different folder.
Overall, I recommend this app very much (this is actually my first paid mobile app). There is also desktop version but costs 30$.
Finally here is view of one my mind map done in SimpleMind (in Slovak language)